Autor textu a fotografií Vít Pažourek, KVH HP19
"Mělo by se vyzkoušet, jaký kulomet by sem pasoval, protože tohle nebude jen pozorovatelna jak na Atlantickém valu," napadlo mne při první návštěvě objektu typu C-180. Bylo to v srpnu 2003, kdy jsme po ukázkách u celnice v Čížově vyrazili na vycházku v dobových uniformách. Kozími stezkami jsme došli ke "skalnímu hnízdu" číslo 5/2065 a pak i k druhému objektu 5/2068 nacházejícímu se v NP Podyjí. Představa, že bychom do zakázané I. zóny NP těsně u řeky tvořící státní hranici ilegálně přivlekli TK vz.37 z Kuřimi či dokonce z Opavy přivezli TK vz.24 však byla příliš fantastická a nenašla u členů našeho KVH HP19 patřičnou odezvu. Jednoznačnou odpověď ohledně výzbroje tohoto typu objektu nedala ani knížka Utajené pevnosti, která vyšla v tomtéž roce. Tomáš Svoboda mi tehdy při konzultaci sdělil, že z dostupných historických dokumentů nelze v případě C-180 dokladovat nic víc než čísla objektů.
Dalším impulzem se stal průzkum tří zbývajících objektů C-180 umístěných u Vranovské přehrady, který jsme provedli se synkem v červnu 2007 pod falešnou záminkou rodinného výletu. Bítovský 5/1214 těsně u hospody a Chvalatický 5/1216 přímo v chatové osadě nebyly shledány vhodnými objekty pro zamýšlený pokus díky příliš blízké zástavbě a zaneřáděnosti interiéru. Naopak Oslnovický objekt 5/1201 jsme nalezli u sjízdné cesty a s poměrně čistým interiérem i okolím. Volba místa byla jasná. V objektu jsme zaměřili přesnější rozměry střílny i stolu. Důvěryhodné výkresy kulometů však nebyly k mání. Proto jsem si v srpnu 2007 na ukázkách ve Slavonicích vyfotil švarclózku náchodské kulometky z bokorysu a vložil do AutoCADu příslušně zvětšený snímek. Výkres na první pohled ukázal, že TK vz.24 na polní lafetě do objektu rozměrově sedí. Na schůzi klubu mi kolegové z HP19 vyjádřili podporu, ale stále scházel kulomet. Ostrý neznehodnocený nám z obchodu zbrojíř půjčit nemohl a projet pro jiný kulomet dvakrát trasu Brno-Slavičín-Vranov nebylo časově a nákladově příznivé řešení. Během roku 2008 však jeden z členů klubu investoval do řádně znehodnoceného TK vz.07/24 a LK vz.26 byl k dispozici již dříve. Zbývalo počkat na období vegetačního klidu.
Konečně v sobotu 28.3.2009 vyrazili Petr Podroužek, Pepi Šlesinger a Vip Pažourek se synem a se spoustou rekvizit k pokusné instalaci výzbroje. Objekt na poloostrově na JZ výběžku poloostrova označovaného na
mapách Vrátná u Oslnovic jsme vyčistili od trochy hlíny s listím a od pavučin lopatou a rejžákovými košťaty za necelou hodinku. Bdělí celoroční obyvatelé okolních chat však byli rychlejší a teprve propagační tiskoviny resp. vybalení kulometů je přesvědčilo, že se do bunkru nehodláme nastěhovat natrvalo. O něco déle trvala replikace výdřevy střeleckého stolku z dovezeného předpřipraveného řeziva. V poledne je příprava objektu hotova, kluci si oblékají repliky dobových uniforem a jako první vnášejí dovnitř trojnožku lafety a vzápětí i těžký kulomet vz.07/24. Nasadit, připojit, vložit nábojový pás a už je možno cvaknout první snímek.
Je to jasné: Výška a rozměry střílny i střeleckého stolu objektu typu C-180 odpovídají TK vz.24 s lafetou ve střední poloze. Zkoušíme s kulometem i různě manévrovat. Náměr pokrývá oba břehy přehrady v přímém směru dole pod námi, odměr polní lafety lze využít v plné šířce. Pro dosažení plného 180° odměru střílny je však zapotřebí přemístění kulometu po střeleckém stolu. Nejsnadněji to jde, když pomocník vyběhne ven, uchopí kulomet za tlumič ohně a střelec jej uvnitř vzepře za držátka. V boji samozřejmě zcela nereálná možnost. Jako příliš předpisové a velmi zdlouhavé se nám jevilo kulomet vybít, schránku s náboji odložit bokem, kulomet odpojit z odměru, otočením na kolmo k lafetě jej sejmout, lafetu přemístit a kulomet znovu nasadit, připojit a nabít. Za realistický považujeme třetí vyzkoušený způsob, kdy pomocník stoupne na stůl, v předklonu uchopí kulomet hadrem či opaskem podvlečeným pod chladič a přenese jej na potřebné místo, přičemž střelec za držátka vyvažuje a zvládne i postrkovat schránku s nábojovým pásem, takže kulomet není nutno vybíjet.
Se standardním pěchotním LK vz.26, který by se v objektu C-180 mohl objevit v případě nějakého pohotovostního či nouzového obsazení, jsme vyzkoušeli více způsobů umístění pro palbu z objektu:
Při postavení LK vz.26 dvounožkou na střelecký stůl s maximálně vysunutými nožkami je ústí hlavně jen několik centimetrů nad hranou střílny, není možné zamíření s depresí. Zamíření dolů na "čáru přílivu" lze však snadno dosáhnout, když kulomet se sklapnutou dvounožkou položíme přímo na parapet střílny. Zbraň tak získá pevnou podporu a střelec stabilitu opřením o betonovou hranu stolu. Poškrábání zbraně jsme v našem případě zabránili podložením pytlem, stejně dobře by vibrace při střelbě tlumila i erární přikrývka.
Nejdůvěryhodnější ho výsledku s LK vz.26 jsme dosáhli s dvojnožkou postavenou na truhlík střeliva. Nožky lze přitlačit k rubu čelní stěny, výstřelná je přibližně v polovině výšky střílny, které tak skýtá volné pole pro náměr i odměr udílený ramenem střelce stojícího v přirozeném mírném předklonu. Při potřebě přemístění kulometu do jiného palebného směru se truhlík s hadrovými uchy posunuje po dřevěném vyložení stolku velmi snadno.
Při popsaných pokusech s kulomety v objektu typu C-180 jsme si uvědomili skutečnost, že v objektu je dostatek přirozeného světla a širokou střílnou je po stranách kulometu možnost nerušeného pozorování předpolí. Zranitelnost osádky skrz tento funkcionalistický skružený okenní pás palbou z protějšího břehu se zdá vysoká. Při první prezentaci výše popsaného pokusu na srazu KHV Brno v listopadu 2009 kolega Michal Prášil připomněl možnost vykrytí části obvodu tradičními pytli s pískem, na jejichž lepší stabilitu ve střílně by mohl mít vliv i ozub na parapetu střílny. Nadpraží střílny je však jak známo tvarováno ve spádu, který vytváří na vnějším lící okapní hranu. Tento detail by mohl být předmětem zkoumání při případné další zkušební instalaci.
Ze zjištěných skutečností tedy můžeme usuzovat, že pro řešení tvaru objektu byla rozhodující geometrie TK vz. 24 na lafetě ve střední poloze, neboť nejprve byl kulomet a pak teprve objekt postavený v roce 1937.
Zdroje a literatura:
Pozn. admin: děkujeme kolegovi Vipovi za poskytnutí svých poznatků a fotografií ze zkoušek objektu C-180.
---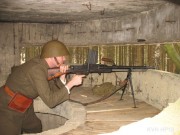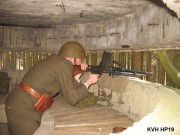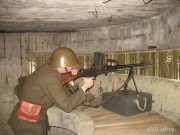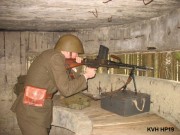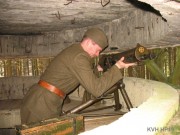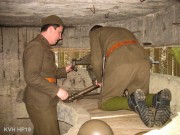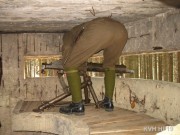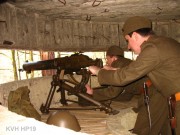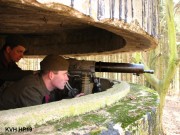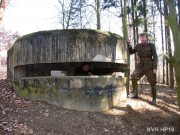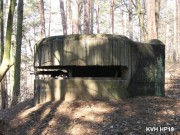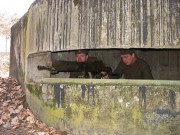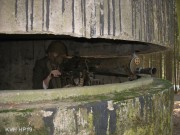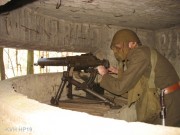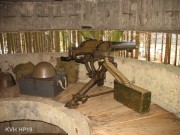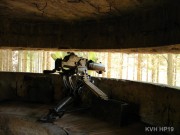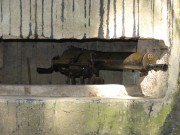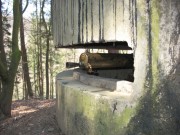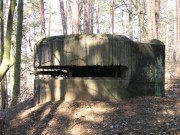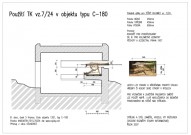 ---
---