Změna číslování objektů v úseku X Nové Heřminovy
---
V nedávné době se mi dostal do rukou zajímavý materiál z postupu výstavby lehkého opevnění ve IV. sboru. Z těchto přehledů sice nejde vyčíst přesné datum betonáže jednotlivých objektů, ale do kterého data byly objekty vybetonovány (případně měsíc betonáže), už tento údaj přece jen více přibliží.
Ve většině úseků jsem je poté doplnil do sloupce "datum betonáže". Např. "do 15/V/38".
Nicméně v úseku X jsem byl zaskočen, protože podle současného číslování vycházelo, že bylo dokončeno do jistého data několik objektů na východním křídle, několik ve středu úseku a dva na západním křídle. To by ještě nebylo tak divné, kdybych úsek neznal téměř dokonale a věděl, které objekty mají jakou ventilaci a které disponují již prostupy pro kabelové vedení (na západním křídle), jež se zaváděly, až když byla výstavba úseku X téměř u konce.
Tak mi to nedalo a zkusil si čísla objektů (u nichž je stejný typ) prohodit. Použil jsem i seznam objektů od VSD s čísly a typy a zjistil, že některá čísla nejsou přiřazena ke správným typům objektů.
Výsledek mé dedukce bude dobře patrný na přiložených mapách.
Současná nesprávná čísla jsou vyznačena černou barvou.
V tomto směru tedy navrhuji přečíslování (přetypování) některých objektů zmíněného úseku.
Zdroje a literatura:
fond ŘOP, IV. sbor
vlastní terénní průzkum
---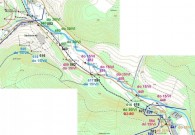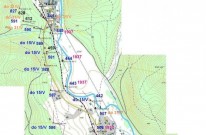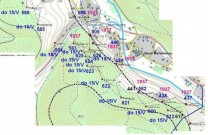 ---
---

Vloženo: 3.5.2011
Autor:
Zdeněk Hanáček
---