Volno spojené se státním svátkem 17. listopadu nás inspirovalo k provedení, dá se říci již tradiční, podzimní průzkumné akci česko-slovenského přátelství (priatelstva) na Slovensku. Lokalitu pro výlet jsme zvolili s ohledem na působivou zalesněnou oblast pohoří Burda, která v podzimním nádechu v kombinaci s majestátným tokem řeky Dunaj slibovala nejen pěkné zbytečky řopíků, ale i zajímavé přírodní scenérie. Systematický průzkum slovenského LO jsme začali s kolegy z KHV Brno právě před deseti lety v této oblasti, kdy jsme se nadchli nádhernou vyhlídkou od řopíku stojícího na vysokém skalním ostrohu nad Dunajem.
Počet účastníků této akce se v průběhu plánování několikrát změnil, až se nakonec ustálil na konečné sumě osmi osob. Českou část expedice zastupoval Vláďa Sýkora, Tomáš Svoboda a já, za slovenskou stranu pak Stano Mazák se synem Míšou a Heňo Ťažký s přítelkyní a kamarádem. Oba posledně jmenovaní však pěší túru vzdali hned na začátku. S Vláďou jsme se již navečer 16. 11. přesunuli autobusem do Bratislavy, kde jsme využili nabídky na přenocování u Stana Mazáka a společně jsme pak i s jeho synem vyrazili ve čtvrtek ráno autem směr Štúrovo (dřívější Parkáň). Do Štúrova dorazil ráno zpožděným vlakem EURONIGHT i Tomáš Svoboda a na nádraží jsme se sešli i s osádkou Heňova auta, které dorazilo z Banské Bystrice. Odtud jsme vyrazili do nedaleké Bajtavy (úsek VIII).
Prakticky během chvíle jsme objevili dosud nehledaný zbytek řopíku č. 26, který se nalézá prakticky přímo v obci. Zbytek Heňovy osádky se odtud oběma auty přesunul do Štúrova. Z Bajtavy jsme následně postupovali po linii LO na jih, kterou jsme již zaměřili právě před deseti lety. Ačkoliv jsme s Tomášem Svobodou celé pásmo LO v zalesněném pohoří Burda již tenkrát prošli, museli jsme konstatovat, že se nám při návratu do známých míst příliš detailů nevybavilo. Podobně jako jinde se krajina poměrně rychle mění, řopíky stojící tehdy na louce byly dnes zarostlé v mladém podrostu apod. Všechny bunkry jsou zde samozřejmě zničené, nicméně dochovaly se z nich poměrně pěkné zbytky v podobě jam s množstvím betonové drtě. Na slovenské poměry zde bylo kdysi i hodně zbytků ocelových prvků, ale ty již také vzaly za své. Jednosledová linie táhnoucí se jižně od Bajtavy čítá něco přes dvacet objektů, přičemž poslední řopík (č. 45/B2-80) byl vybudován na skalním ostrohu nad Dunajem, odkud je překrásný výhled nejen do údolí řeky směrem k soutoku s Hronem, ale i na Štúrovo a Ostřihom na maďarské straně, které vévodí monumentální katedrála. Při pohledu na strmé skály pod objektem asi každého návštěvníka napadne nesmyslnost situování řopíku na tomto místě (stačilo ze vchodu udělat pár kroků doleva a nešťatník by se zřítil z několikaset metrové skály). Avšak jako vyhlídkové místo to nemá chybu. Po náležitém pokochání se krajinkou a z mlhy vystupující katedrálou jsme po značené cestě sestoupili do Kováčova, kde jsme měli již připravená obě vozidla, abychom se nemuseli vracet celou cestu zpátky do Bajtavy. U Kováčova se nachází také nejjižněji postavený řopík v celé ČSR, konkrétně se jedná o objekt č. 46/D2. Jeho úkolem bylo čelní postřelování silnice a železnice z Maďarska, ale i jako jediný v systému LO účinně postřeloval i hladinu Dunaje a nedaleký ostrov.
Po zhlédnutí smutných zbytků tohoto objektu jsme se přesunuli do Salky, která je proslulá svojí opevněnou celnicí, ve které byly použity střílny ze slovenských 36-tek. Poté jsme se následně přesunuli do prostoru bývalého 4. sledu (ano, nepřepsal jsem se, skutečně zde byly vybudovány čtyři sledy řopíků!) západně od Salky. Objekty č. 47 – 51 se zde měly nacházet v lesním porostu a po usilovném hledání se nám je podařilo všechny dohledat. Jako zajímavost lze uvést, že zde později mělo vyrůst i těžké opevnění, které by spolu s uvedenými čtyřmi sledy LO představovalo pro Maďary zřejmě nepřekonatelnou překážku. Avšak je nutno ještě dodat, že dále severně od Salky byla obrana LO již nepoměrně slabší. A protože nás již tlačil čas, odvezli jsme Tomáše zpět do Štúrova na vlak do Brna a my s Vláďou a dvojicí Mazáků jsme se vrátili zpět do Bratislavy.
Pátek pak byl věnován oddechovému průzkumu Záhorí. Po zhlédnutí dvoupatrového řopíku u Devínské Nové Vsi jsme se přesunuli k Malým Levárům, kde jsme si prohlédli uzávěr Prievoz (úsek LI). Pro mne i oba Mazáky to byl návrat na známá místa, ale Vláďa měl záhorskou premiéru, a proto jsme nesměli vynechat ani onen slavný čtyřstřílnový objekt pod mostem. Z uzávěru Prievoz jsme se nakonec ještě přesunuli ke Gajarům, kde jsme se pokusili dohledat skořápky v předpokládaných místech nepostavených řopíků. Stanovi se poměrně rychle podařilo najít podezřelou jámu v odhadnuté pozici objektu LV/257, nicméně jsme však nedokázali vyvrátit, nebo potvrdit, že se jednalo skutečně o započatý objekt. Sonda provedená polní lopatkou neprokázala přítomnost betonové desky, tvar jámy byl příliš protáhlý a hluboký, palebně by ani nekryl objekt č. 255. Nejistota však stále přetrvává a na Záhorí nemáme dosud žádnou potvrzenou skořápku. Jistě ale nějaká čeká na svého objevitele! Z Gajar jsme se odpoledne přesunuli do Bratislavy a po výborném občerstvení jsme pak s Vláďou odjeli autobusem do Prahy.
Celou akci jsme hodnotili jako velmi povedenou a už se těšíme na každoroční jarní průzkum Slovenska, který by nás měl zavést opět do míst zcela neznámých a neprobádaných …
---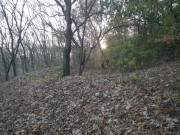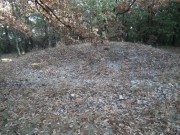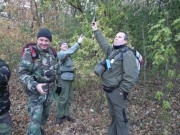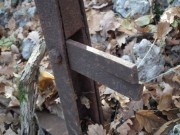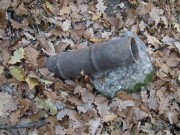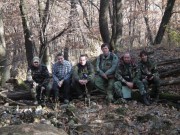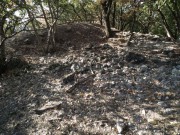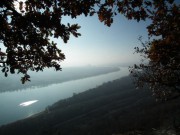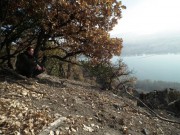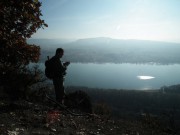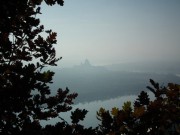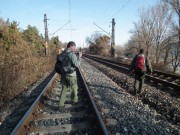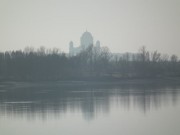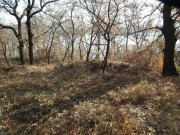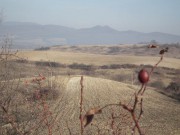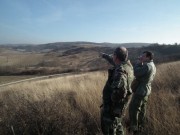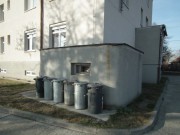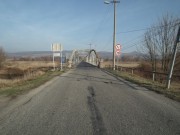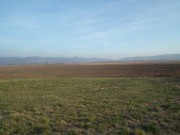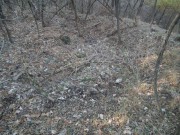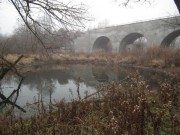 ---
---