Slovo úvodem
Propagace našeho společného koníčku, prohlubování a předávání znalostí o objektech lehkého opevnění může mít různou podobu. Ať už se jedná o provozování muzea, vytváření publikací nebo článků či jen o fotografickou dokumentaci a zaměřování pozic objektů. Kolega Jiří Kaštil, který je návštěvníkům těchto stránek znám více jako "Začátečník" vnesl do problematiky dokumentace a předávání nabytých znalostí a zkušeností takříkajíc třetí rozměr - dynamiku. Nápad zachytit reaktivaci lehkého opevnění hraným dokumentem vypracovaným na profesionální úrovni je vskutku zajímavý. Film jsem měl možnost shlédnout krátce po jeho vyrobení a je třeba říci, že na mne působil velmi zajímavým dojmem. Vzhledem k omezeným možnostem, které máme jako amatéři k dispozici, je jasné, že nelze očekávat dílo nadupané akčními scénami a vizuálními efekty zpracované ve stylu Spielberga. Stejně tak je třeba přihmouřit oko i nad uniformami herců, kteří používají upravené poválečné kopřiváky s předválečnými prvky. Nicméně jedná se o první filmové dílo, které na toto téma vůbec vzniklo a asi netřeba připomínat, že i v profesionálně zpracovávaných filmech natáčených s diametrálně odlišnými rozpočty se často objevují určité nesrovnalosti v historických reáliích. Ačkoliv je film nabízen na aukru, je především určen k volnému šíření mezi zájemci o LO.
Těšilo by mne, kdyby tento film inspiroval k vytvoření dalšího zajímavého dokumentu - pokud by podobný instruktážní film vznikl o obraně v roce 1938, kde by byly zapracovány do nejmenšího detailu všechny znalosti o tehdejším způsobu boje a vybavení, byla by to určitě pastva pro oči pro všechny zájemce o opevnění. Třeba se někdy dočkáme... Jan Lakosil
Film Řopík
Jiří Kaštil alias "Začátečník"
Pozorní čtenáři diskuze na těchto stránkách si jistě vzpomenou na můj před lety psaný příspěvek, ve kterém jsem poněkud odlehčenou formou avizoval svůj záměr natočit film s tématikou reaktivace objektů SLO. Natáčení skutečně proběhlo a dvacetiminutový dokumentární snímek s prostým názvem "Řopík", tak konečně na sklonku minulého roku, spatřil světlo světa. Základní myšlenkou projektu "film", bylo kamerou zachytit a tímto způsobem zvěčnit mnou provozovaný řopík, potažmo reaktivovaný řopík s plnou bojovou výbavou jako takový. Vzhledem k tomu, že statické záběry nehýbajícího se objektu jsou ze své podstaty nezáživné, bylo rozhodnuto záznam oživit akčními záběry posádky bunkru. Po vypracování základní osnovy scénáře jsem s nápadem na natáčení filmu oslovil okruh kamarádů z řad bunkrologů a majitelů historické vojenské techniky. Má vize dokumentu prezentujícího nejen vybavený bohumínský řopík, ale i výzbroj a techniku ČSLA z padesátých a začátku šedesátých let, se u oslovených naštěstí setkala s pochopením. S vědomím zajištěného realizačního zázemí, co se osob a materiálu týče, jsem se s věcí samotného projektu obrátil na místní soukromé TV studio, které kromě jiných komerčních aktivit připravuje a zajišťuje i vysílání městského televizního informačního kanálu prostřednictvím kabelové televize. Na podzim roku 2008 byl po předběžné domluvě se zástupcem studia a ujasnění finančních záležitostí stanoven i pevný termín natáčení. Konkrétně se jednalo o sobotu 2.5. 2009. V čase zbývajícím do natáčecího dne jsem kromě psaní scénáře a textu mluveného komentáře doprovázejícího filmový dokument, vytvářel také snahu udržovat všechny zainteresované osoby v pohotovosti, bdělosti a stálém odhodlání přijet na jaře 2009 do Bohumína. Samozřejmě bez nároku na odměnu či jakoukoliv náhradu a natočit hodnotné "reaktivační" dílo. Jako kuriozitu lze uvést, že v pracovním týdnu předcházejícímu inkriminované sobotě jsem byl k svému překvapení zcela výjimečně a nečekaně zaměstnavatelem vyslán na zahraniční služební cestu. Termín a ve výsledku natáčení vůbec jako takové bylo najednou v reálném ohrožení. Ze zahraničí jsem se řízením šťastného osudu vrátil nad ránem přípravného pátku 1.5. 2009 a naštěstí pro film vše dobře dopadlo….
V rozhodný den "D" počasí přálo, nikdo z týmu lidí, kteří přislíbili účast neselhal, technika fungovala a tak se během jedné soboty podařilo v ryze amatérských podmínkách, bez předchozí přípravy a na tzv. "první dobrou klapku" natočit více než dvě hodiny kýženého filmového materiálu. Nastalo dlouhé období zpracovávání syrových záběrů, stříhání, nahrávání mluveného komentáře atd… Prodleva 2,5 roku od natáčení po finální výstup celého projektu byla způsobena spíše vnějšími faktory, které jsem ne vždy mohl ovlivnit. Film je tedy konečně hotov. Na tomto místě je třeba ještě jednou poděkovat všem zúčastněným osobám, TV studiu, i samotnému městu Bohumínu, které projekt také podpořilo.
O co se vlastně ve snímku jedná? Krátké dílko je rozděleno na dvě části. Po základním úvodu do problematiky následuje "pseudodobová" část, která se snaží evokovat jakýsi dobový propagační a instruktážní film o cvičení záložníků motostřelecké jednotky, které se odehrává přímo v linii SLO na blíže neurčeném místě, snad někdy v roce 1961….
Snímek byl natočen podle tehdejších znalostí, nejlepšího svědomí, okolností a hlavně možností… Jak už to tak v životě bývá, i u mého filmu by se jistě našla řada věcí, která se mohla udělat jinak, lépe a věrohodněji. Přesto doufám, že i přes nepřesnosti a některé odborné prohřešky, o nichž samozřejmě velice dobře vím a kterých si člověk znalý problematiky zajisté snadno všimne, bude dokument přijat i těmi nejortodoxnějšími odborníky vlídně a také potěší nejen diváky zajímající se o opevnění, reaktivaci SLO či vojenskou techniku. První ohlasy z okruhu známých či spolupracovníků, tomu zatím naštěstí nasvědčují. Tak ať se vám, bunkrologům, kteří tento film "o reaktivaci" náhodou uvidí, naše společné dílo líbí. "Začátečník"
Zdroje a literatura:
Foto: Nikola Liberdová
Kamera: Jiří Spáčil
Scénář a režie: Jiří Kaštil
---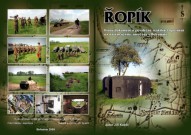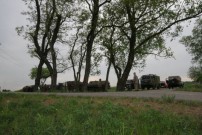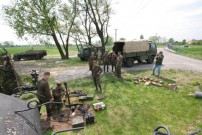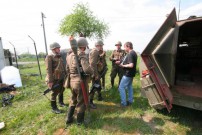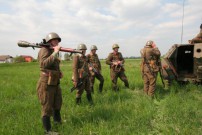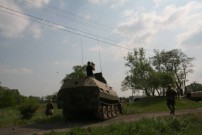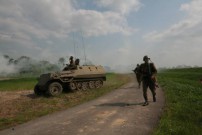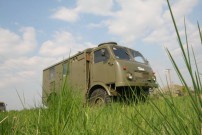 ---
---