Doucha (12.3.2007 13:03)
To je z fotky patrné, poznám přeci nově vyvrtané díry od starých. Originály jsou většinou poznamenány zubem času, ale vtip je právě v tom, že nový čep je sice nově vyrobený, ale svojím vzhledem se řadí mezí horší orezlé kusy. Proto jsem psal, že ofrézovaný vršek se stopami po nástrojích, kde sedí hrana na hranu je prostě nezaměnitelný se špatným odlitkem, domaštěným pilníkem.
---

Vladek Vácha (kecal roku) (11.3.2007 18:29)
ten co myslíš ,že je uplácanej z modelýny je originál:o) pokud myslíš ten co já..ten druhý hezčí je nově vyrobený.
---

Doucha-Slavonice (8.3.2007 14:09)
No přesto bych řekl, že frézovaný (nebo z odlitku přefrézovaný)horní kus, kde sedí hrana na hranu je hezčí a věrohodnější, než kus na fotce. Vypadá to, jako kdyby to bylo uplácané z modelíny, zvláště partie kolem 12 mm díry na vidlici. Inu jiná technologie, jiný vzhled....Záleží na pohledu uživatele.
---

Vladek Vácha (kecal roku) (2.3.2007 23:02)
Jinak důležitá věc..opracovával člověk,který je truhlář..to znamená kov je tabu a soustruh poprvé používal u toho závěsu..to znamená že to zvládně iopravdu každý při troše trpělivosti.V.V.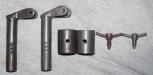 ---

Vladek Vácha (kecal roku) (2.3.2007 23:01)
4-6 ?? by mě zajímalo kdes na to přišel..možná hliník má až tolik....kov ze kterého to je má 2%..ale to je teď jedno.Raději jsme ti to te´d přeměřil a po opracování je průměr nohy stejný jako u originálu podle kterého se to dělalo. Cena byla tuším cca 70-100kč...je možné doodlít ..ale zas tak aby to byla aspoń malá série...V.V.
---

Martin Černý (2.3.2007 14:47)
Hmm vypadá to naozaj velmi pěkně:-)) Jen jestli je dodržena původní velikost aby čep ve střílně nekloktal. Jestliže je to odlévané podle origa, tak jistě víš, že odlitek je vždy o 4-6 procent menší. Frézu i soustruh mám, kolik chceš za jeden odlitek??
---

Vladek Vácha (kecal roku) (2.3.2007 13:15)
Ten popis jak vyrobiz závěs lk J.R. je docela dost složitý ...a drahý....ne každý má doma frézu ...a vaření....přidávám foto originálního a opracovaného závěsu z již v jiném tématu zobrazeném odlitku ,které jsem nabízel. K opracpvání se úpotřebuje jen malí soustruh...a pak vše ruční nářadí. Žádné drahé frézování či vaření.....

---

Durinko (1.3.2007 12:30)
Na fóru www.fronta.cz nějaký uživatel nabízí strakonickou lafetaci do LO 37. Nick má Dear namy a prodává i jiné věci.
---

Zdenál (4.2.2007 19:33)
pro Jirku Duchoně.Závěs lk26 jsem mohl mít dík vstřícnosti Honzy Lakosila.Zatím jsme se dedohodli.Prosím pokud budeš tak hodný a posleš mi mailem oskenovaný plánek závěsu budu moc rád.Zkusím ho vyrobit.Přece nejsem žádný mejdlo. Předem dík.Zdeněk
---

zdenál (2.2.2007 16:42)
pro honzu lakosila.vzhledem k tomu že mám pouze rám strakonické lafety nevím jestli bych ji díky tvým dílům uvedl do provozuschopného stavu.přiznám se že ani přesně nevím kolik má lafeta dílů.také jsem momentálně ve finanční tísni vzhledem k tomu že jsem pořídil lk26.v každém případě bych se s tebou rád domluvil pres mail.doufám že moji adresu otevřeš.ten závěs ale beru v každém případě.sděl mi prosím cenu nebo za co ho vyměníš.děkuji
---

Jan Lakosil (2.2.2007 13:31)
Nějaké nadbytečné díly strakonice bych ještě asi měl mít (nosiče TK, závaží, mosazný jezdec s objímkou, odpadní nástavce, šrouby apod). Pokud ty věci neskončí ve šrotu,ale v nějakém řopíku, tak je možno domluvit se na nějaké výměně - platí to i pro Tomáše Koubeleho, aby si nemusel lámat hlavu s výrobou jezdce:-) Několik improvizovaných závěsů LK vz. 26 s přejímačkami z roku 1950 mám také navíc. Jinak ten způsob výroby čepu s vidlicí, který zde popsal Jirka Duchoň už před ním vymyslela i zbrojovka ve Vsetíně pro výrobu poválečných závěsů LK 26.
---

Jiří Duchoň (2.2.2007 9:30)
Výkres závěsu mám kompletně zpracovaný a mohu jej poslat buď poštou nebo oskenovat a mailem. Dobré je nechat vyfrézovat jednoduchý polotovar vrchní části, tu našroubovat na vysoustružený čep se závitem (u horní části nechat nadmíru 1mm a za připravené sražení přivařit WIGem s drátem a pak přesně zasoustružit na R2)a celé to pak jednoduše v teplejch opracovat. Výsledek stoprocentní, počet kusů neomezený, cenově za pusinku. Vyráběl jsem takhle třeba depresní čep pro velkou střílnu, který je mimochodem na prodej za 1000 Kč. Vypadá tak, jak by zřejmě vypadal tenkrát, kdyby ho stihli vyrobit.
---

Tomáš KOUBELE (1.2.2007 20:04)
V obecné diskusi kdysi dávno nabízel V.Vácha polotovary závěsu pro LK 26... v.vacha@tiscali.cz
---

zdenál (1.2.2007 19:41)
bohužel lafetu vz38 jsem zatím nesehnal.prosím nemá někdo alespon závěs pro lk26 který by mohl prodat-vyměnit?byl bych spokojen i s plankem.dík
---

Jan Ciglbauer (17.1.2007 11:54)
Z K-S-5 mi psali asi před měsícem, to měli poslední strakonici v trochu horším stavu za 8 500,-
---

zdenál (16.1.2007 16:15)
Dík za odpověd.na aukro jsem koukal ale neumím s ním pracovat.L 38 nabízeli také na ks-5,ale neodpovídají na mail.asi už nemají. v každém případě děkuji za tip.máme od roku 2006v rekonstrukci řopík na trutnovsku.krom té lafety máme dá se říct vše. ted ještě do něčeho pověsit lk 26.z nouze by jsme zatím brali i vykopávky.neva.treba ještě prijde nejaký tip.bunkrům zdar.
---

Jan Lakosil (16.1.2007 15:36)
Nějaké díly strakonice jsou teď na aukru.
---

Zdenál (11.1.2007 16:19)
Zdravím všechny milovníky opevnění.není nekdo kdo má nějaké přebytky co se týče dílů na strakonickou lafetu. vlastním pouze torzo.budu vděčný i za informaci o někom kdo mě chtěl tyto díly i jednotlivě prodat (vyměnit).
---