Městečko Węgierska Górka leží v údolí asi 10 km od města Żywec, zhruba patnáct kilometrů severně od Jablůnkovského průsmyku. Zdejší opevnění je v literatuře velmi často zmiňováno, neboť je to jedno z mála míst ve Slezsku, kde se v září 1939 bránily polské jednotky. Ovšem názvy Westerplatte jihu jsou vzhledem k rozsahu bojů velmi, velmi přemrštěné.
Počátek opevňovacích prací v této oblasti spadá do jara 1939, kdy bylo v rámci armády Kraków rozhodnuto zabezpečit horské přechody mezi Polskem a Slovenskem několika uzávěrami z těžkých objektů.
Samotné práce prováděly skupiny ženijních vojsk za vydatné pomoci místního obyvatelstva bez větší mechanizace. Dovoz materiálu z vykládací stanice na železnici na staveniště obstarávaly pouze koňské potahy a to včetně štěrku, který byl vozen až od Krakova. Do září se kromě polního opevnění podařilo dokončit betonáž celkem pěti srubů, z nichž čtyři mohly být již použity k obraně. Jejich krycí jména byla "Waligóra", "Włóczęga", "Wędrowiec", "Wąwóz" a "Wyrwidąb", přičemž je zajímavé, že všechna začínala na W.
Výstavba dalších minimálně 15 objektů nebyla vůbec započata, i přes to zde došlo k poměrně těžkým bojům s útočící 7. divizí pěchoty. Tyto boje trvaly až do 3. září, kdy polské jednotky ustoupily. Ztráty na polské straně se uvádějí kolem 20 padlých, zatímco na německé kolem 50 padlých a až 100 raněných.
Z postavených objektů je nejzajímavější dělostřelecký srub "Waligóra" na západním křídle, určený pro dva běžné polní kanóny (poloha N 49,60531; E 19,10324 [WGS84]). Srub stojí na východním úbočí kóty Glinne na levém břehu řeky Soły. Jedná se o rozměrný jednostranný jednopodlažní srub v odolnosti C. Hlavní výzbrojí měly být dvě polní děla, zatlačované dovnitř velkými vraty v týlové stěně každé kasematy. Pomocnou výzbroj tvořilo několik lehkých kulometů pod betonem, které mel doplňovat neosazený pancéřový zvon. Při bojích byl lehce poškozen, průstřely na několika místech pocházejí z natáčení propagandistick ého snímku po dobytí pozice.
Nedaleký objekt "Włóczęga" je dnes ukryt v suterénu rodinného domu na rozlehlé zahradě. Srub byl poškozen při natáčení německého propagandistického snímku a po válce prodán do soukromých rukou.
Objekt "Wędrowiec" stojící jihovýchodně od železniční stanice (poloha N 49,59787; E 19,12072 [WGS84]) je dnes upraven na museum. Jednopatrový oboustranný pěchotní srub v odolnosti D měl být vyzbrojen protitankovým kanónem a trojicí těžkých kulometů pod betonem a čtvrtý těžký kulomet sloužící pro ostřelování předpolí měl být osazen v kopuli. Během bojů byl ostřelován dělostřelectvem.
Objekt "Wąwóz" je umístěn na návrší nad obcí (poloha N 49,59511; E 19,12756 [WGS84]). Opět se jedná o oboustranný pěchotní srub, rovněž odolnosti D. Plánovaná hlavní výzbroj se měla skládat ze tří těžkých kulometů a jednoho 37 mm protitankového děla umístěných v samostatných kasematách. Čtvrtý těžký kulomet měl být instalovaný v kopuli, která nebyla osazena. Při bojích byl poškozen dělostřeleckým ostřelováním, při kterém byla zničena především kasemata pro protitankový kanón.
Posledním z postavených objektů je srub "Wyrwidąb" stojící na návrší situovaném poněkud do týlu (poloha N 49,59691; E 19,13360 [WGS84]). Tento jednopatrový pěchotní srub v odolnosti C byl v září 1939 nepoužitelný, neboť ještě nedošlo k utvrdnutí betonu. Hlavní výzbroj měla tvořit dvojice těžkých kulometů, doplněná třetím kulometem v kopuli a několik kulometů lehkých v pomocných střílnách. Těžká poškození pocházejí až ze šedesátých let , kdy zde polská armáda testovala výbušniny - mimo jinými údajně i český Semtex.
Zdroje a literatura:
---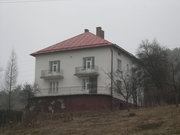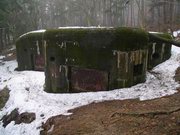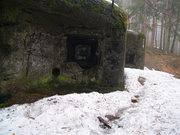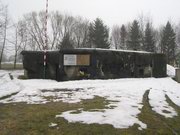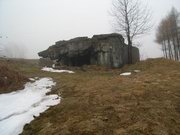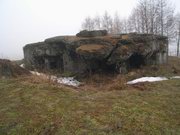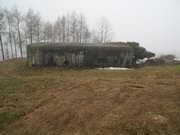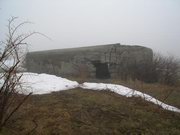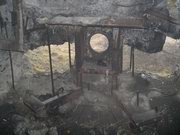 ---
---